What to do on island Vir when you had enough of sunbathing and swimming, and you want to spend the day in a slightly different, more active arrangement.
Don't worry, because in addition to the sun and sea, Vir offers loads of activities that will fill your days and give you the opportunity to get to know the island, both from land as well as the sea.
Dalmatia quad is an adventure you will remember for a long time. Team from Dalmatia quad offers carefully organized tours where you can explore hidden side of the island on four wheels, and have the opportunity to enjoy a beautiful view of the nature around you. You can choose between two tours – Extreme and Adventure, depending on how brave you are, and whether you want to enjoy a light ride or fully awake your adrenaline, because believe me, guys will not spare you 🙂
Cycling and hiking on Vir
Island of Vir is an ideal location for all lovers of cycling and hiking, whether you are an amateur who wants to discover the island via simpler and easier trails, or an experienced  adventurer who is ready to conquer most difficult trails.
People on Vir will often laugh at you if you ask about hiking trails because, let's be honest, there aren't exactly mountains on the island, so you certainly won't climb heights, but you can discover the island with trails.
Most of the trails pass through villages, while the other part takes you through untouched nature and uninhabited parts of the island. Apart from enjoying nature of the island of Vir by hiking and cycling, some of the trails also pass by famous sights of the island, such as Bunari and Kaštelina Tower.
Regardless of the path you choose, we recommend that you to get off road and head to the sea, where you can discover hidden beaches and coves to cool off and rest for the road ahead. If you want to discover other places near Vir, you can visit Privlaka and Nin by bike as well as on foot, or continue all the way to the city of Zadar.
In addition to the standard bike trails, you can also join traditional spring, autumn and Christmas bike rides in Vir, which are held every year and are intended for all age groups, from the youngest to the oldest.
Trails are divided into easy, medium and difficult trails, and more detailed descriptions of cycling and hiking trails on the island of Vir can be found here.
Discover Nin and Zadar with a tourist guide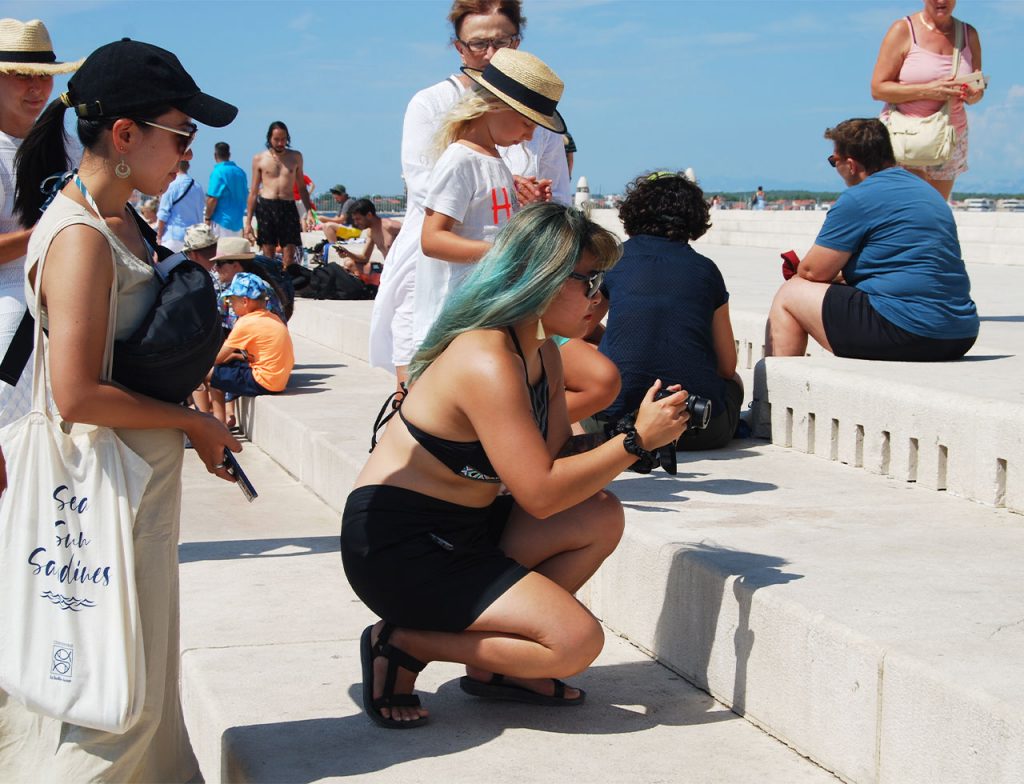 Entire area of ​​Zadar County, including the island, is rich with historical sights. Take a whole day to get to know the history of the place where you spend your summer, and book a tour with a licensed tourist guide – Jasmina Simić. Jasmina has designed interesting and interactive tours in Nin or Zadar for you to enjoy.
Once you discover hidden stories and legends of the cities you pass through, you will surely experience them in a completely different way and learn a lot about the culture of living in this area.
If you want to explore the island from the seaside, there are several activities that are made just for you. Whether you are looking for an adrenaline rush activities or just want to relax enjoying landscape and blue sea, there is something for everyone at Vir.
Where to bathe without the children getting bored? Perfect option for kids full of energy is located on the beach Jadro, in the center of Vir. A  number pf large air mattress  with a series of interesting jumping spots and slides will interest both younger and older kind. While children are jumping and loving the aquapark, you are free to relax in the shade in one of the nearby beach bars.
Not far from the main beach, Jadro, you will find the largest center for water sports on Vir, where you can spend a whole day trying something new. At the Watersport Centre, you can try absolutely every water activity that exists.
Have you always wanted to try parasailing and see Vir from a completely new, bird's eye view? Or raise adrenaline by riding a twister with your friends? You can try all this and much more at Watersports, and completely fill your day.
In addition to water activities at Watersport, you can also rent quads and electric scooters.
Want to discover the island via sea? Explore hidden beaches of the Vir, or jump to the nearby island of Pag by renting a boat.
Don't have your own licence to drive a boat? No problem, because you can also hire your own skipper, who will reveal to you the most interesting and hidden corners of the island that few people know about.
In addition to water sports, you can try diveing on Vir. One of truly special experiences that is available to everyone. You can dive as an amateur choosing a tourist dive that lasts about 20-30 minutes. Don't worry, as mandatory 30-minute instructions are held before the dive, and the entire dive takes place under surveillance of the instructor.
There are also options for a half-day or full-day boat trip where you will dive to various locations such as the island of Sestrunj, where you will dive to a depth of 20 meters and discover ruins of the old sunken ship "Ledenika". Sounds really fantastic, doesn't it?
In diving center, you can enroll a complete diving course that lasts for 4-6 days and get a diploma according to the conditions of the International Diving Association CMAS, which you can use to  dive and explore underwater secrets anywhere in the world.
Calendar of events for 2022
Summer 2022. is knocking on our door, and the pre-season starts in a few days when the Easter holidays start and the first guests come to visit  Vir.
Many events are held on the island throughout the calendar year, although most events can be visited in the summer, while thousands of people are spending holidays on Vir.
Find all events on the yearly calendar and organize your summer holidays today.
We hope we have interested you and maybe even discovered some new activities on the island of Vir. Whether you spend your vacation actively or just looking for something different from a standard lazy summer day, we are sure you will find something you like.